What Are the Benefits of Daily Exercise?
Posted on: 
March 22, 2021
•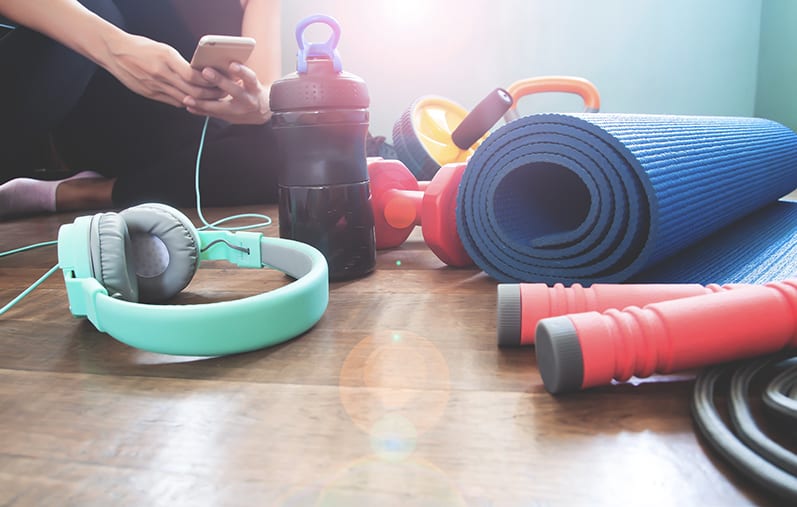 For many people, physical activity isn't something that comes as a part of a normal daily routine. Especially if you work a job that requires sitting at a desk for significant portions of the day, you may have trouble getting the exercise that you need to stay healthy. Therefore, you might consider adding a daily workout to your routine. Doing so can have numerous perks for your health. Continue reading for a look at the benefits of daily exercise and some tips for designing a routine that you can stick to. 
Immediate Benefits of Daily Exercise
You've probably heard of a runner's high before—maybe this is even a sensation you've experienced. But feeling good because of exercise isn't exclusive to runners. Your body needs to move to stay healthy, so it rewards physical activity with the release of brain chemicals that improve your mood, help you sleep, and help your mind feel sharper. In addition to feeling good right after you work out, you'll notice an immediate effect of reduced blood pressure. Over time, daily exercise will have even more benefits. 
Long-Term Benefits of Regular Exercise
Longer-term benefits of exercise can be achieved without working out every single day. If you get moving on most days, you'll notice far reaching positive effects on your health. Perhaps the most important benefit is for your heart—regular exercise strengthens your heart and reduces your risk of cardiovascular disease. It also lowers the risk of at least 13 different types of cancer.  
Thanks to benefits like improved coordination, stronger bones, easier weight maintenance, and better balance, daily physical activity also helps reduce your risk of fall-related injuries as an older adult. Furthermore, studies have linked daily exercise with a lower risk of Alzheimer's, depression, and other conditions that can impact your brain health. In addition, there's a growing body of research that suggests a link between exercise and improved immune function. Given this data, it's safe to assume that your fitness routine may pay off in ways you don't yet even realize. 
What are the best exercises to do every day?
Because muscles need time to rest and repair after a hard workout, you might wonder if it's okay to work out every day. In most cases, it's safe and deeply beneficial to exercise every day or on most days of the week. The best way to work out daily is by varying your routine to give different muscle groups a break and prevent yourself from getting bored. Utilizing group fitness classes or on-demand training is a great way to keep your work out varied and dynamic. You can also select classes based on your target muscle group. 
Ideally, you'll include endurance exercises, such as moderate to intense cardiovascular workouts, as well as strength and flexibility exercises like weightlifting or yoga. 
How long should your daily workout be?
The CDC recommends getting about 30 minutes of moderate exercise daily (moderate meaning that you're having to put in a strong effort, but you're not giving 100% throughout your workout). Even better, you can shoot for about half of that time to be comprised of intense physical activity. You can, of course, work out for longer sessions each day, but simply increasing the intensity of your workout may have better results. It's better for your fitness to do a short workout each day than a long workout occasionally. So, even if you can only put in 5-10 minutes, it'll be much better than no workout at all. 
What are some stretching exercises to do every day?  
If you're feeling tired or sore, incorporating stretching into your exercise routine can help. Even in the absence of soreness, dynamic stretching before a workout and as part of your cooldown helps reduce your risk of orthopedic injuries and improves circulation. Taking a Mind-Body group fitness class can introduce you to some gentle stretches to move your body, relax the muscles, and connect your movement to your breath. 
How can you improve your motivation to work out daily?
Despite the numerous benefits of daily exercise, it may still be challenging to take that first step and start a new fitness routine. Alternatively, maybe you find yourself regularly starting up and burning out with the same set of exercises. Working with a personal trainer can help you overcome these hurdles. A trainer can offer accountability to help you stick with your workout in addition to offering new and exciting ways to get moving. Even more importantly, a personal trainer can ensure that you're going at the right pace for your current fitness level and utilizing the right form in your workouts. This means that you're less likely to get sidelined by an injury that prevents you from reaching your goals. 
Find fun and welcoming fitness classes along with online personal training at Body Essentials. We offer a variety of virtual programming to help you get fit and stay fit on any schedule. In addition to great workouts, we offer ongoing support and motivation to keep you focused on your self-improvement goals.