I have always struggled with my weight. I have done Weight Watchers 3x, participated in Zumba, walking and have been a member at other gyms but never stuck with it. I am the type of person who needs accountability and "tough love" neither of which I have ever had. I would start out with a bang and just give up after a while.
In 2014 my marriage fell apart and as I went through the divorce process I was most worried about my son and how we would handle it all. In 2016 the divorce was finalized. After making sure my son was Ok and I had made peace with everything and found the strength to forgive and move on, it was finally going to be time to prioritize myself.
In November of 2017 I was diagnosed with diabetes and had to start taking medication. This was a wake up call for me that I really needed to make some changes and literally get moving and change my diet. I did both of those things and dropped my A1c by 1.2 points  but needed to do more.
It was not until April of 2018 when I found Body Essentials (BE) via Facebook when I decided to reach out and commit to myself to get better. Since starting at BE I have found a community that holds me accountable and give me the tough love that I sometimes need. Through 2018 I was on a roll. I lost the weight, improved my diabetic condition and was close to getting off medication (which I will accomplish ASAP). I was happy, motivated and getting stronger. There were no excuses or giving up and not following through.
In January of 2019 I came down with pneumonia. I was unable to do almost anything until the middle of March. When I returned to my exercise, it was difficult and I still had some challenges with my breathing and got sick 1-2 more times before I was fully on the mend and back to my regular schedule of working out 4-5 times per week on top of working full-time, attending my son's sporting events, taking care of others and trying to keep myself and my motivation  a priority. It was hard. I have never once considered giving up. I love the BE community and the friends I have made.
Coaches Note: Marietta is one of the strongest people I know of in every way, shape and form. I always tell her she has "farm strength" because she handles a lot of weight with ease because of her farming history but she is also resilient to challenges. We are excited to continue her progress the rest of this year and share it with our virtual community.
Three months ago we started tracking Lisa's progress publicly. Fitness & nutrition comes with many ups and downs as Lisa had experienced but we are so happy to report that she is back on track to the best version of herself after some hard work this summer and navigating all the challenges of daily life and not using social events and holidays as an excuse or not the right time to change. Read on for Lisa's own words.......
How did I get here, and by here, I mean 21 pounds lighter,  eating a whole food plant-based diet, and certainly stronger then I was three months ago? It's not just the big change in my eating habits it's the change in my habits period. At the beginning of the summer I was tired all the time. I started every week with a good nutrition plan only to have it fall apart by day 2 or 3 then just give up. I was avoiding the gym because my weight gain made everything so much harder. I certainly would have given in to my pain and come home gone to bed and never even considered a low impact walk to get some exercise in.
Over the past three months I have changed my habits a little at a time. It started with accountability. Weekly weigh-ins made me really think about what I was eating. This is where the support of Christie and the other trainers at Body Essentials became an important part of my journey. Their support encouragement and constantly pushing me to jump out of my comfort zone was key to my success. Toward the beginning of the summer we, as a group, hiked up Killington. I was slow and struggled most of the way up. One of the trainers stayed behind with me and encouraged me to take it a few steps at a time until we reached the cabin. I gave up at the cabin, a decision I regret. I have made a plan to go again mid-October, this time I am determined to go all the way to the top and can't wait to feel the difference. Another change was just changing up my times to exercise. I exercise two mornings a week giving me some evenings to walk my dog, spend time with my husband or just do nothing (I rarely do this anymore). This, I believe, was an important change for me. Starting my work week off with a good day of exercise and some accountability made me think twice about every bite of food. Logging my food intake also was an important part of this journey. It is part of the accountability. I always reminded myself if I eat it and don't write it down it was just hurting myself. Looking back every week to see where I could make changes no matter how little they were they made an impact.
Part way through the summer I got food poisoning. The bacteria I had was reportable to the health department. When the health department called to follow up all their question about my food intake were meat related. (By the way I could answer their question because I had my food logs I knew exactly what I ate 2-5 days before my symptoms started). I, at this point stopped eating meat. I was eating meat replacements, but no meat. About two weeks later I went to a talk at Body Essentials about anti-inflammatory diet, watched Forks over Knifes on Netflix and am now I have been eating a whole food plant-based diet for 14 days.
So, what have I learned through all this? One, if you get off track don't give up. In the past 14 days I ate a piece of pizza I didn't say to myself oh well I'm off track I might as well have two pieces I said how do you feel? I felt full and like someone had put a weight in my stomach. I felt hungry or maybe just a craving within 20 minutes of eating it. I wrote that down and have it on my desk at work to remind myself that if I make that choice again that is how I will feel. I learned vegetables actually taste ok. I learned it's ok to live it up once in a while. I went out one night with friends and Christie was at the same restaurant and there I sat with a bowl of pasta, but I still lost weight that week because I had my pasta then I was 100% locked down on my nutrition the rest of the week. I learned I am strong. I learned it's ok to be pushed out of my comfort zone. I learned I am the only one that can make the changes and do the work. Others can encourage and give advice, but I have to do the work. I learned not to compare myself to other people. I learned to start my week prepared. I learned to plan ahead for events. I learned a schedule is so important (I keep mine on a wipe off board). I learned how important it is to have friends and family encourage, love and support me. I, also will not ever forget that the support and encouragement Christie and the other coaches at Body Essentials gave me. They made this journey fun, challenging and possible. I am looking forward to continuing on this journey and ending the year at an all-time high (or low) with another 20 pounds lost stronger than ever. Thank you, Christie, Megan, Jacob, Julie and Sabrina.
Coaches Note: Lisa was not perfect or without challenges in this process but she stepped up to every difficulty and navigated it with 100% heart. If we had not been challenging her or making her accountable with record keeping and coaching check-ins first thing Monday morning, I am not sure she would be in the place. It is easy to not be accountable to yourself or talk yourself out of the right behaviors. At Body Essentials clients can only "hide" for so long before we pull them aside and say something is not working well, what is going on, we have to do something about it. The benefit of our clients working with more than one coach and in small groups is that everyone is holding everyone accountable for all the right reasons. Lisa is and always has been a leader in our community. She tried to slip to the back of the room for a little while but when she did not come back to the front of the classroom, we pulled her back to the front. We know she will reach her ultimate goal by the end of the year. It will only take 1 lb per week for most weeks and at the rate she is going with her new nutrition plan, she will reach her goal before Thanksgiving.
Before   (May 2019)                                                                                                      Today (September 5, 2019)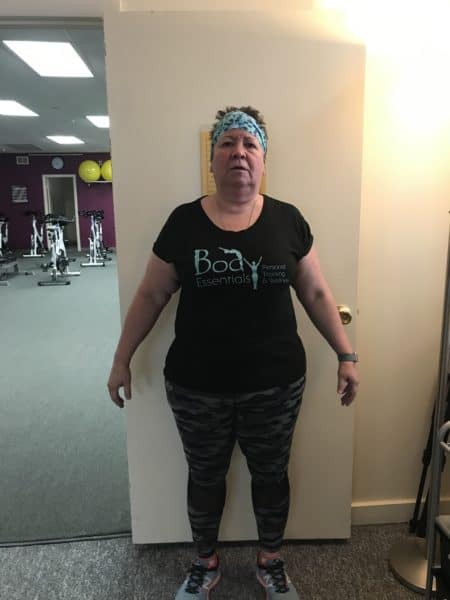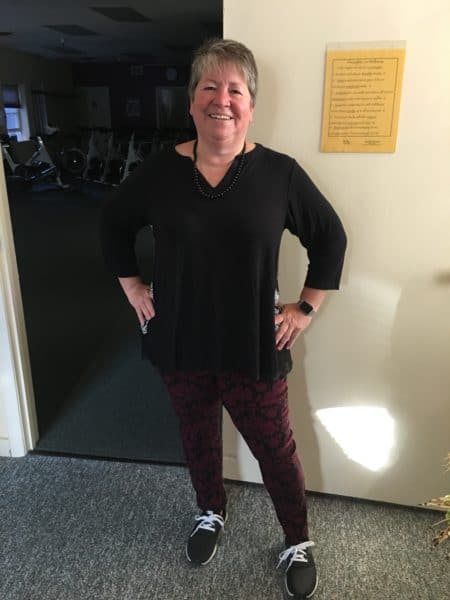 I have been a student of health & fitness since the early 90's, before you could find your desired dietary answer on the google machine. Academically, experientially, additional education, studying, reading and learning from other professionals has kept me active in enhancing my life. In the work we do with clients, nutrition is critical and we are constantly trying to debunk poor nutrition information. Personally, I am constantly working to optimize my nutrition practice not because I want to improve how I look or lose weight (those are just bonuses) but because I want to be healthy inside and out which to me is do what I can do to prevent disease and stay out of the Dr's office and because I want to have abundant energy to keep up with my life and be a good role model for others in my daily work. SO,  in August, I did the thing I said I could never ever do! I went an entire 30 days with no alcohol. I LOVE beer, good craft beer (and wine).  But lets' face it, there is no nutritional value to alcohol in your diet, end of story. It is calories, gluten, and more calories. So I just decided, after feeling like I had had my fill, that I just wanted to take a break and reset my body a bit without the influence of alcohol for 30 days. I have heard it 100 times over in my studio and have said it myself many times, I just could never give it up entirely.  I am here to tell you, you can!!! My level of resolve may be pretty well developed when it comes to behavior change compared to others but anyone can do it.  I am strong believer in not "leaning" your life to the point of no enjoyment. Cutting all the "good stuff" sucks the fun out of life. It also has adverse short term impacts the one time you put something in your body that is not "clean" after a long period of clean eating! So let me provide you with my top 5 outcomes of abstaining from alcohol for 30 days:
Energy: This is not necessarily an area that I struggle with, but give me a beer or glass of wine and the day is over. In the absence of alcohol I never got sluggish. Alcohol is a depressant and always drained me no matter how much or little I had.
Improved overall nutrition: It is well proven that drinking alcohol leads to less optimal nutrition selection especially when in social settings. So in the absence of alcohol  I saved  on empty calories and ramped up my nutrition density by not having that slip in choices and decision making no matter the setting.
Improved overall healthy behaviors: If I was not making alcohol part of my life for 30 days, what was I going to do with that time? I got more rest, I read more, I wrote more, I enjoyed nature more, I managed my time better, felt less stressed and when my husband finally asked why I was not drinking (it took 2 weeks), he started reducing his own consumption.
Reduced Body Pain: A number of years ago an integrative medicine Dr. told me that 100% of people who reduce gluten intake will feel better. Gluten is found in anything made from wheat, barley or rye. So cutting my consumption of beer for 30 days meant no gluten (no I did not cut gluten from other aspects of my diet) which also meant none of that full feeling and reduced inflammation in the body. Of course not drinking alcohol meant I was drinking a lot more water because if I am not drinking coffee, I am drinking water. I am not going to give up alcohol and start drinking something else  because that would be sugary beverages. One of my personal nutrition rules is don't drink your calories and do not give up one bad habit for another. So increasing water (GOOD OL' FASHIONED WATER) is always a great way to make your body feel better and reduce pain.
Apparently I look Younger: So after my 30 days was up I celebrated with a beer (not what I preach to clients about rewarding yourself). I went to the beverage store in search of a Maine Beer Company IPA, found exactly what I was looking for and was immediately carded by the cashier and when I assured him I was plenty old enough he proceeded to make my day and maybe even my year by telling it me I look far younger than what my ID indicated. So yes, how I look to myself and others still matters in some way shape or form. I had not been carded in quite a while! That beer was very good but I think I was more satisfied by not drinking!
Consider for a moment how easy cutting alcohol from your diet is compared to other nutritional change. You do not need to read any labels or consider any facts. You simply need to say no. When trying to cut processed ingredients or sugar from your diet or reduce calories, you need to scan labels and perhaps do some google searching on different foods and understand terminology to make good choices. Alcohol is alcohol, you either consume it or you do not. SIMPLE!
Do the thing you have been telling yourself you could never do. Do it just because change does a mind and body good. Do it to see how you look, feel and how others respond to what you are "working on." Do it because you never know what will other great things will manifest in your life! Stay tuned as I am on to two other challenges over the next couple months!
Cheers!
(Picture Credit: Anchorage Brewing Company, AK Owned & Operated by a former Rutlander. This beautiful brew was enjoyed on our last day in Alaska in 2017 and has stuck with me as one of the best beers I have ever had aged in a red wine barrel with rose petals).