Here we are three weeks from the end of 2020. We are all feeling different emotions of what this year was or was not but one thing we have to agree on if you are reading this is that YOU are going to survive! 2020 was not for the faint of heart and on January 1, 2021 we are not just going to flip a switch and go back to pre-pandemic life. If you struggled continuously or periodically in 2020 , you are not alone. This was a year that impacted absolutely everyone and we all had a choice of how we would respond to all the restrictions, changes, and cut backs. What was or is your coping mechanism? Blame? Anger? Grief? Relief? Curiosity? Something different entirely?
Personally, I am allergic to negativity of any type. This does not mean that I do not have bad days or have not suffered hardships. It is precisely those experiences that I wanted to be more resilient against that set me on a path to automatically moving to a growth mindset where I constantly ask myself what am I learning from this challenge and how can I improve because to me, any other response is a waste of my energy and does not take me in the direction I want to move in my business, my life or with the clients I serve
So you may be reading this and rolling your eyes, thinking that is such "pie in the sky," idealistic thinking and that is just fine but if you are reading this and thinking, I would love to get out of that rut of negative thinking and immersion that seemed especially pervasive this year, then I want to talk to YOU. Since March 22nd, our community has run entirely online with 13 live group fitness classes per week, and countless private and semi-private training sessions. As a personal trainer, coach and group fitness instructor it is imperative to go above and beyond 100% to be able to get the most maximum potential out of our participants and like so many businesses, when I made this pivot it was an act of survival so bringing over 100% energy and positivity to every hour of remote work was partially for myself and the eventual sustainability of my fitness community. Suffice it to say, it worked. We are thriving and feeding off one another's positive energy and each month, week and day that energy multiplies and creates great things like results, physically and emotionally and the vision for more possibility.
Body Essentials is indefinitely staying as an online fitness and wellbeing facility and now that we have mastered how to provide live fitness online well we can get back to other important aspects of our eight year mission to be the most comprehensive provider of fitness, nutrition and well-being services as we start 2021 and we want to serve you.
Here are some of the most exciting options coming up as soon as 2021 launches!
Saturday January 2nd: 8am-12pm - BE Fit Fest 2021 - A deep dive into your body and your fitness to prepare for your best year yet! I will lead everyone virtually in how to take body measurements; complete a movement screen, find optimal weight selection for numerous exercises, review body positioning and technique for various workouts and equipment and help you make sure your home workout area and equipment is safe set up well for your upcoming workouts.
Staring January 9th: Our first 21-Day nutrition challenge that will take place every other month. These challenges will be habit based and help you freshen up your nutrition know how all throughout the year.
January 16th will kick off our first of four Powerful YOU  virtual retreats focusing on lifestyle strategies that will help amplify your fitness and nutrition habits. Each retreat will start with a workout.
AND possibly our most ambitious effort yet is having a full on-demand fitness option for all the times you cannot train live or if you want maximum flexibility of when you workout but still have the real time support of a coach as needed.
See what I mean by most comprehensive provider of fitness, nutrition and wellbeing services??
If ANY of this sounds compelling to you please e-mail me at christie@bodyessentialspt.com or text me at 802-345-9644 to set up an absolute zero obligation consultation so you can learn more about what it is like to workout at a virtual studio, so I can learn more about your goals and we can learn more about how we can collaborate to get you feeling better than you ever expected. Let me remind you, it will take work on your part!
And you are probably wondering about cost! It always depends on what training option becomes the best for you based on my recommendation. So perhaps it is less than $100 per month or up $300 per month. Is your health worth it? are YOU worth it?? If you are only concerned about the cost of services, we are not the studio for you.
Just contact me today to learn more. We have limited space in our live programs and the earlier you join our on-demand program, the more money you will save.
I cannot wait to meet you!
Christie Garofano
Chief Empowerment Officer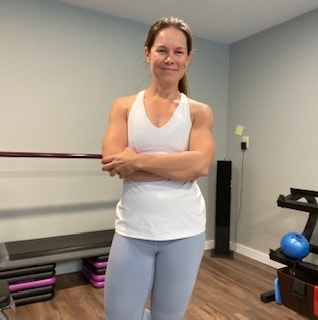 On March 22, 2020, Body Essentials started training clients and holding all group fitness classes live online using the Zoom platform. We are still going strong after energetically springing into action and evolving each month to provide the best programming experience possible for our clients so they stay safe, accountable, motivated, connected and perhaps most importantly, get results! "Live Online," means just that. Our clients show up at their desired class or session time. Their coach meets them in our Zoom studio and leads them thru the workout in the exact same way we did at our in person location. It is keeping everyone safe and healthy while also saving everyone commuting time and I dare say, increasing even more consistent and long term participation. Due to the success and satisfaction of our model and the ongoing nature of the COVID-19 Pandemic, Body Essentials will stay virtual indefinitely.
We invite you to see if training with us is a fit for your lifestyle. There are no geographic limitations. We have three distinct flexible and affordable training plans and you do not need big, expensive, or fancy equipment, just some essentials to get started. We offer workouts throughout the day, 7 days per week as early as 5:30am and as late as 6pm.
Text me today to get started! 802-345-9644. I look forward to hearing from you!
See our Group Fitness Schedule here: https://bodyessentialspt.com/get-started/
Christie Garofano
Founder & Chief Empowerment Officer