Exploring the Dangers of Fad Dieting
Posted on: 
September 2, 2021
•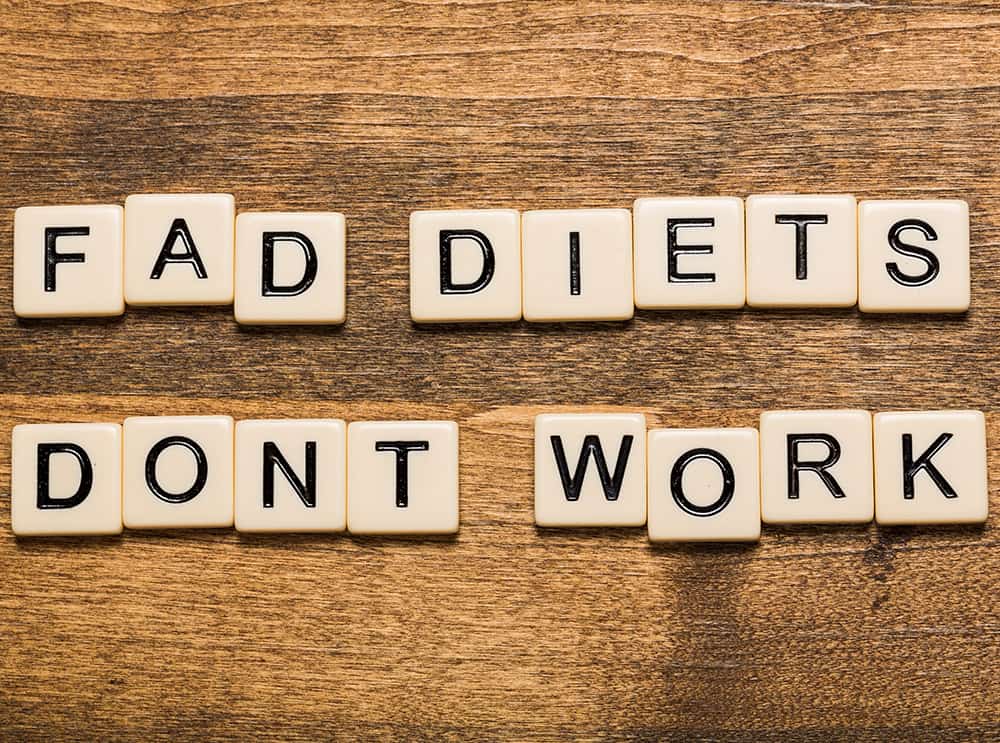 Despite their many potential pitfalls, fad diets are everywhere. These types of diets are easy to spot—they promote seemingly magical results with promises of rapid weight loss. Unfortunately, they also tend to be incredibly restrictive and not based in solid nutritional science. At best you might see a single study or a few anecdotal testimonials supporting claims of a fad diet's success. Still, it can be tempting to try out a new diet if it promises to help you lose 10, 15, or 20 pounds in a matter of weeks. Here's a closer look at why you should avoid that temptation.
Fad diets don't promote long-term weight loss.
Juice cleanses, the Keto Diet, the Fenoboci Diet… these are just a few of many recent diet trends that have been featured all over social feeds, magazines, and other media. You may even know someone personally who raves about their results with one of these programs. However, they're called fad diets for a reason.
Although there's always some trending diet making headlines, the individual plans are never the same—that's because they simply don't work. Most of these diets rely on extreme measures like cutting out entire food groups, significantly restricting your caloric intake, or even fasting for long periods of time. These strategies don't add up to long-term weight loss. Even if you see results on the scale initially, they aren't likely to last.
You may experience dehydration, malnutrition, and serious health problems because of fad dieting.
Fad diets tend to rely on claims that cutting out key foods or combining certain foods will result in weight loss. However, when you eliminate whole food groups, you may not get all the vital nutrients you need for good health. For example, avoiding carbohydrates altogether could have you lacking fiber in your diet. Instead, it would be more beneficial to swap out simple carbohydrates for complex ones, such as whole wheat pasta or brown rice.
Following a restrictive diet plan, you may experience dehydration, fatigue, nausea, headaches, and constipation. The Keto Diet even warns followers of the Keto Flu, which may include symptoms of irritability, nausea, vomiting, dizziness, muscle cramps, and poor concentration—clear signs that the body is struggling to adapt to an extreme diet. Over a longer period, these effects may significantly damage your health and put you at risk for more serious problems.
Fad diets don't provide adequate fuel for your workouts.
Because fad diets aren't nutritionally well-rounded, you may be lacking the building blocks you need for cardiovascular and strength training workouts. Exercise is a key ingredient for weight loss, as it helps you burn calories, build lean muscle, and boost your metabolism. However, you need a solid foundation of good nutrition to get your body ready to exercise.
To ensure that your body is fueled for your workouts, you should focus on balancing what you eat. Add more fresh fruits and vegetables, whole grains, and lean proteins to your diet while working to avoid processed foods, added sugars, and high sodium foods. In addition, you should stay hydrated by drinking plenty of water throughout your day and even more during your workouts. Pre- and post-workout snacks including protein, fats, and complex carbohydrates—for example, a banana and a handful of nuts—can help you quickly refuel and stick to your fitness plan.
You're likely to gain all the weight back after transitioning away from a trending diet plan.
If you've ever followed an incredibly restrictive diet, you know that food cravings and temptations don't simply disappear. It's tough to stick to extreme fad diets, and most don't even encourage sticking to the diet long-term. So inevitably, you'll transition back to a different way of eating, most likely falling back on old habits. As a result, you will probably see weight gain, which can ultimately be even more dangerous. Yo-yo dieting can throw hormonal levels off balance, put stress on your cardiovascular system, and cause you to gain more harmful belly fat.
Focusing on sustainable habits is a formula for success.
Selecting the right diet plan isn't always easy. There are lots of factors to consider, including your dietary preferences, your previous experience with different diet plans, and your individual weight loss goals. That's why the lifestyle and nutritional coaching programs at Body Essentials are customized to your needs and include ongoing support from a dedicated coach. As part of our Flourishing Program, we offer 21 Day Nutrition Challenges every other month that include different food themes, live group coaching, & weekly educational video lessons. The purpose is to support participants while providing accountability to the varying nutrition needs of all participants. Our next challenge begins on Tuesday September 14th!
Before you commit to any diet program, schedule a one-on-one consultation with a lifestyle and nutritional coach at Body Essentials. Our online personal training and coaching services can help you fit nutrition and wellness into your busy lifestyle. We also provide on-demand fitness classes and personal training sessions, so you can stay fit and active throughout your journey. Call us today at 802-345-9644 or request a consultation on our website.