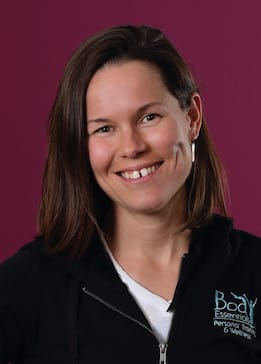 Christie Garofano
Owner of Body Essentials, Christie's fitness journey began in college as an Exercise Science major. She worked in various capacities within the fitness industry including management, group fitness instruction, and personal training for over 15 years before opening Body Essentials in Rutland, VT in 2013.
The philosophy of Body Essentials & Christie's model of training has evolved based on her own fitness knowledge and experience. Christie has finished 1 marathon, a handful of half-marathons, various 5K's and one Spartan Race. In addition Christie has been active in the weight room since college feeling the benefits that strength training has on all facets of life and performance. Finally, Christie loves walking and being as active as possible in her day to day life and works to enhance her nutrition practice day in and day out utilizing a whole food and processed free diet. Beyond fitness, she believes that our daily life practices work hand in hand with our fitness so she works hard to manage and educate others on strategies to manage stress, rest, and have a strong can-do mindset in all aspects of life. She strongly believes in practicing what she preaches and honing her practice with clients with ongoing education, constant reading and studying and practicing the most effective exercise, nutrition and mind-body strategies for a life full of health, happiness, and positive mindset.
Christie lives in Chittenden with her husband Tom, dog Austin, and cat Target.
MA-Bowling Green State University, OH
BS-Castleton University, VT
American College of Sports Medicine Personal Trainer
Movement Training Specialist
Wellcoaches Health Coach
Precision Nutrition Level 1 Coach
Request Information
Personal Training
Semi Private Training
Group Fitness