Nutrition Coaching Enrolling Now!
At Body Essentials Personal Training & Wellness we believe that nutrition has a significant impact on overall body transformation in combination with exercise. Having a well-balanced daily nutrition routine promotes steady energy for workouts and daily activities, and aids us in reaching a variety of goals related to our workout routine whether it be weight or fat loss, increasing lean body mass, or learning structured daily habits related to exercise and nutrition. In a partnership with Balanced Habits, we offer three different options for nutrition coaching.
Nutrition Boost: Boost is our introductory nutrition program offered to all new clients upon beginning their training with Body Essentials.

Nutrition Kickstart: Kickstart is a 28-Day program offered nationwide three times a year in January, May, & September. It is a comprehensive nutrition & fitness program designed to show you how to "kickstart" your health & fitness journey In just 28 days!
What you will get:
A Kickstart Orientation with a Balanced Habits Certified Food Coach
Weekly Assessments, guidance & food coaching
Tasty recipes, menus and grocery lists each week
Weekly fitness opportunities with your fellow participants
Whether you want to lose fat, gain muscle, or just live healthy, the limiting factor is almost always nutrition

Nutrition Life: Life is our monthly nutrition-coaching program through Balanced Habits where each participant works with a certified food coach to create a customized eating & exercise program. This is not a diet. You will learn a simple, easy to follow solution to any nutrition need.
What it includes:
3,6,12 month format of supportive, motivating and private nutrition sessions tailored to you and your goals
An understanding of nutrition and how it impacts your specific metabolism and path forward to your goals
3-Ring Notebook full of recipes and your road map to success
Food lists and numerous tools to address any challenge you are facing
Full comparison from start to finish on all your achievements and game plan for the future
On the Go: OTG is an at work version of our 28-Day Kickstart program! To host On the Go at your worksite contact us today!
If you feel you could benefit from making changes in your nutrition routine contact us to learn how we can help you through any of our programs that are designed to simplify every aspect of your daily routine from planning, preparing, timing & eating without restricting anyone type of food or nutrient.
Our goal is to help you reach yours with nutrition designed specifically for you, your body, your lifestyle, & your goals!
Nutrition Coaching Testimonials:
I was a bit hesitant to start the Kickstart program because what I was doing with my nutrition was working or so I thought. I enjoyed having foods again that I thought were bad for me like bread & butter. The model is something that I can do for a lifetime and not get bored with . I love the variety of food option and I never felt deprived and would never consider it just a diet. -Laurie L.
I wanted more than to lose weight. I wanted to learn more about proper portions and better overall nutrition. Even as a vegetarian, this program gave me that and more that I will be to use in my life beyond the 28 days. - Mandy D.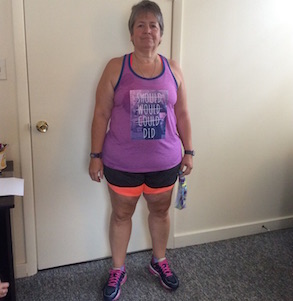 The Balanced Habits programs have made me much more mindful when eating and allowed me to make better choices in my nutrition. The food coaches have always been very supportive and answer any of my questions promptly. The Balanced Habits programs are individualized—they are unique to you, you get to choose from a variety of foods (and you get to choose the ones you like!) and help you learn how to problem solve. I've learned to appreciate non-scale victories throughout these programs. These programs don't make me feel limited in food choices—but help find a balance and the best proportions of fats, carbohydrates & proteins. -Lisa N.
I have been trying to lose weight and gain muscle for quite a while. As I have gotten older, I found I gain a few pounds a year. Nothing I had done seemed to work. Balanced Habits seemed very sensible and easy to follow. I am able to incorporate it into my everyday life—even when I travel! My favorite part of the program is the Pack and Go chart that breakdowns my units into unique meal ideas I can choose from. Because of Balanced Habits, I am more mindful of the amount of food I'm eating. I used to snack and overeat—now I have scheduled times to eat and eat overall healthier foods. I am now eating more fruits and vegetables and my sugar intake has decreased, allowing me to live a healthier life. I would recommend this program to everyone! - Susan D.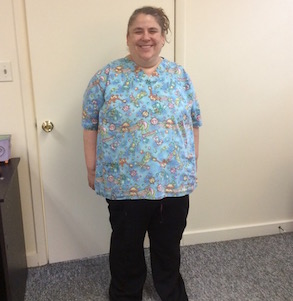 I've enjoyed learning about organic and clean food choices and how to make my nutrition work around my lifestyle and working 3rd shift. This program has helped me practice control in regards to snacking and helped me learn how to wait to eat between meals. It is easy to make food choices through the LIFE program that fit individual needs—there is no need for 'diet food' or any one particular food or drink, but instead it is better to be choosing a variety of whole foods. This program has given me the skills needed to be successful and has taught me to keep moving forward and to get back on track, even when you make a mistake. - Jody K.
When I came to the nutrition seminar introducing the Kickstart program, I thought it was a very smart plan and it would help me with my general well being and life. As I started it, the first week was pretty hard, but as I persisted, my cravings for 'bad food' went away, and by the second and third week I was really starting to crave the healthy, clean food my body really wanted and needed! I realized the correct amount of water my body needed, and when I hit the right recommendations, I felt more energized. My favorite parts of the program were the Pack N Go—it helped guide my nutrition decisions and was very easy and helpful in being successful in the program—and that the food coaches were always available for help to answer any questions I had. The Kickstart has allowed me to become a healthier person, decreased my inflammation, has given me more energy, and has made me want to strive to improve my life even more. I would recommend this program to anyone and everyone who wants to take a step to a healthier life and future. - Martha J.
I thought the Kickstart program was excellent. It is the first of its kind that is sustainable. I am still following the structure 4 weeks after the initial program ended and am still getting results even though it feels like I have adapted to a new lifestyle. I feel much healthier! - Kristie B.
I really liked the Pack & Go Sheet Option. It kept me on tack & it was interesting to try and be creative. The nutrition log book was very important part of the process too. Christie was a taskmaster which is what I needed to be fully engaged in the program. I look forward to keeping up with the lifestyle change I have made as I feel too good not to. This 28-Day Kickstart was a huge success for me. - Freddie B.
I am ecstatic with the 28-Day Kickstart. I have tried so many other programs with not much success. The kickstart was easy to follow an I noticed big changes in how I felt overall. Weekly accountability made all the difference and working with Christie was the best. Any questions or concerns were responded to immediately and this was huge. I definitely recommend this program to everyone! - Karen S.
Request Information
Personal Training
Semi Private Training
Group Fitness