Melt Calories. Get Fit. Have FUN! That's What Our Classes Are All About!
Our Group Fitness programs are the perfect way to meet new people and build a support system based on one common goal: to get fit. Each class is a high energy workout for a group involving individual modification as needed by an experienced instructor who wants to see you succeed and meet your goals. All of our programs include on-going assessments, nutrition and lifestyle coaching for a comprehensive results-based approach. We guarantee you will see quick and lasting results from Large Group Fitness in Rutland.
All ages and experience levels are welcome! Whether you are an avid gym goer who wants to get stronger, or an athlete looking to take their fitness to the next level, you will be pushed and challenged to new heights.
Get in Shape Fast with Group Fitness at Rutland
At Body Essentials in Rutland, we will provide you with a full body, high energy, and fast-paced workout. We can't guarantee it will be easy, but it will be fun and exciting. We want you to leave our studio feeling energized and ready to take on the days to come. You will also experience some of the added bonuses listed below: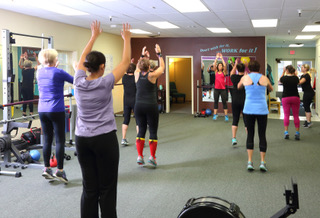 Weight Loss
Increased Strength and Muscle Tone
Gained Friendships and Sense of Community
Decreased Stress
And Much More
You will not only see physical results through our Group Fitness program, but you will experience mental and social wellness as well. And that is what we are all about at Body Essentials; we want you to look your best, but also feel it.
Below are the classes we offer:
Circuit30:
A 30 Min blast of strength and cardio using a higher intensity format modifiable for all fitness levels. A great way to kick off the week and end your Monday with a workout that varies from week to week!
Raisedbarre ™:
Barre classes are one of the hottest trends in-group fitness right now and we are thrilled to offer Raisedbarre™. You can expect a unique combination of muscular endurance, core strength, and stretching resulting in a longer, leaner, more flexible body.
Group Training:
Varied personal training style workout design in a group setting. Each week varies!
Yoga:
Reflect, Relax, Restore Reset your week with this "non-yogi" yoga. A mix of stretching, strengthening and relaxation to help you move thru the end of the week.
Total Body Blast:
Your weekend workout solution! Literally, a total body blast of cardio, strength, and cardio followed by some high-intensity intervals and yoga cool down sets you up perfectly for Sunday rest day!
Start Seeing Results Today!
Signing up is the easy part! All you have to do is fill out the form on the right side of the page to request more information about Large Group Fitness in Rutland. We will be in touch soon, and can't wait to start working together.
Request Information
Personal Training
Semi Private Training
Group Fitness